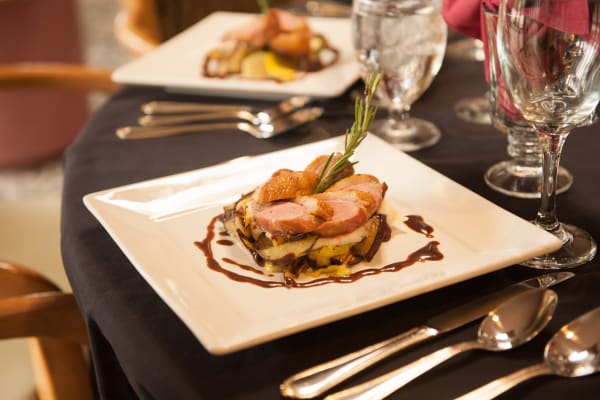 Check out the links to explore Westmont Village's Services & Amenities:
From Entertaining To Enrichment And Everything In Between
Enjoy What You Want. When You Want.
What's cooking? Just open the menu and take a look. Cottonwood Court's flexible dining program was created to fit your lifestyle and your own individual great taste. Enjoy fresh, healthy choices that are always in season. From new culinary creation to favorite down-home classics, all served through the day in an elegant, comfortable, restaurant-style environment.
Find a floor plan that meets your needs in Riverside, California at Westmont Village.
Arts, Crafts & Culture - Cottonwood Court offers an endless array of activities to stimulate, challenge, enlighten and enjoy. We make it so easy to get involved with the community around. Want to volunteer with a local charity? Mentor a child? Or help clean up the environment? Our Cottonwood Court Volunteer Center helps make your life more rewarding while allowing you to make a difference.
The Veterans Aid & Attendance Program provides eligible veterans and their surviving spouse additional income per month to help reduce the cost of care for those requiring assisted living or memory care. Ask us for more information as well as local resources that can assist you in applying for this program. Cottonwood Court is proud to recognize the service and sacrifice of our veterans past, present and future through the development and permanent display of our Honor Walls. We honor and thank our Veterans and their families for their service.
Clubs - At Cottonwood Court, there's always something going on. With so many clubs to choose from, you can spend time with friends that share your same interests such as bridge, ballroom dancing and golf or discover new hobbies like bird watching and photography. And if you can't find the kind of club you're looking for, our staff will provide the resources you need to start your own.
Fitness - You'll be inspired to try new things with access to our health club and wellness center.
Lifelong Learning - If there's one thing in life that we never stop doing, it's learning. Keep your mind active and sharp by taking advantage of a stimulating array of courses and activities offered at Cottonwood Court. We believe knowledge can come from a variety of sources. Whether it's a class taught by one of our own staff, a professor from a local community college, or even one of your fellow residents, you can take courses on a variety of topics ranging from art and genealogy to languages and travel. You can even earn college credit for your studies.
Westmont Village Amenities
Living Matters
Westmont Village was uniquely created to encourage lifelong learning, community involvement and, above all, personal satisfaction. Relish the company of new friends — our welcoming amenities give you so many opportunities to enjoy your new life:
Community Amenities
Housekeeping Services
Flexible Meal Plans
Home Maintenance Inside and Out
Landscape Maintenance
Pest Control
Scheduled Transportation
Valet Parking: Dinner, Sunday Brunch and Special Events
Gated Security Entrance
24 Hour Concierge
Emergency Call System
Lifelong Learning Classes
Apartments Amenities
Fitness Center 
Group Exercise and Dance Classes
Social, cultural, educational and recreational programming
Indoor Heated Pool and Spa
Computer Lab, Billiards Room and Several Libraries
Walking and Hiking Trails
Beauty Salon and Barber Shop
Chapel and Village Hall
Club Style Dining and Café
Lounge with Outside Fireside Patio
Multiple Special Event Venues
RV Parking and Storage
Dog Park
Pickleball Court
Shuffle Board