Get Back To Being You
Outreach Rehabilitative Services in Riverside, California
We help you recover from injury, illness or surgery, so you can be as independent as possible.
High-quality physical, occupational and speech therapies at Westmont Village maximize strength, balance, dexterity, and independence. You can feel confident about your recovery knowing a team of experts tailors each program based on your individual needs.
Choose Inpatient or Outpatient Therapy and benefit from:
Personalized, progressive and innovative programs

Two rehabilitation gyms
Contact us to learn more about Westmont Village rehabilitation services in Riverside, California, or call to schedule an appointment today.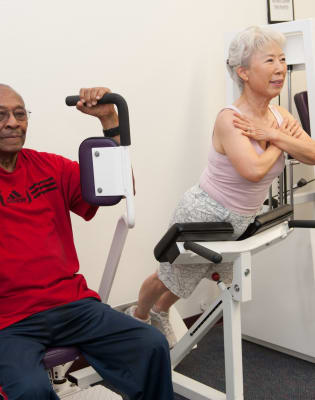 Frequently Asked Questions
What Does Physical Therapy and Rehabilitation Include?
We provide physical, occupational, and speech therapies, with a physician's recommendation. Westmont Village and community residents receive expert care from our highly skilled therapy team, utilizing advanced treatments and modalities.
Is Occupational Therapy The Same As Physical Therapy?
It's similar in that it helps to restore strength and mobility. Occupational therapy helps people adapt to their social and physical environment through education in things like dressing, memory training and coordination exercises.
What Can I Expect From Speech Therapy?
Our skilled speech and language pathologists address communication issues and swallowing dysfunction. They'll design treatments plans to help with cognitive issues, language ability, provide alternate communication strategies and give appropriate diet recommendations.