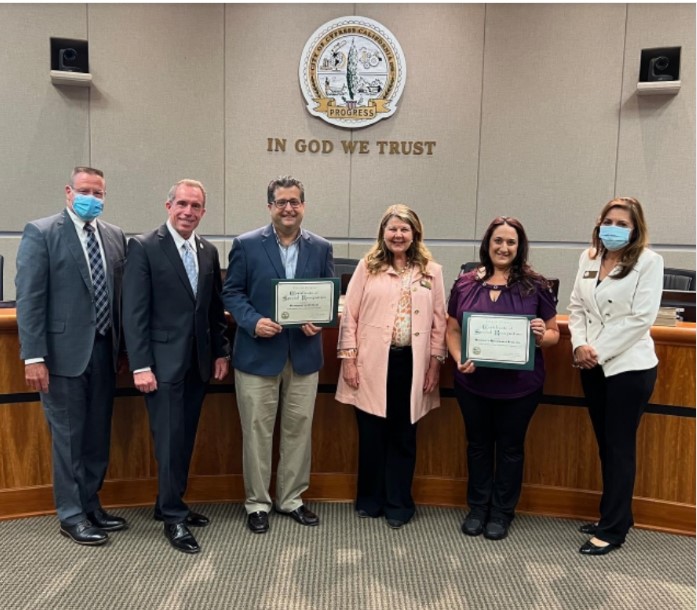 Westmont of Cypress senior living community was recently honored with a Business Environmental Award at the City of Cypress council meeting. According to Douglas Dancs, Cypress Public Works Director, every year businesses who are making a difference are recognized in honor of Earth Day. "We acknowledge local companies, business or multi-family, who are committed to helping out the environment. Westmont of Cypress worked with Valley Vista Services, and got on board with the organics program from their opening to make sure that they were in compliance."
Sam Faye, executive director, Westmont of Cypress, thanked the Cypress City Council for the honor. "In addition to being a residential care community for the elderly we also have a full-service restaurant for our residents therefore we do generate a significant amount of organic waste. Valley Vista Services was able to help us immediately jump on board with our organics program," said Faye. "We also recycle throughout because as a new building because we are able to do these programs easily." Lisa Cisneros from Dominic's Ristorante Italiano was the second company honored on the same evening.
Family-owned Westmont Living is a senior living operator that built and will manage the community. The company's mission is to provide inspiring life experiences that enable residents and their families to lead full and enriching lives. Westmont team members work tirelessly to foster resident independence while respecting individuality, choice, dignity, and privacy. Westmont offers proprietary Live Your Way® programs focused on the seven dimensions of wellness: physical exercise, brain fitness, social events, and lifelong learning. The Dine Your Way program offers residents many options from a variety of menu choices.
To take a tour of the Cypress community, please call 714-252-7144, or for more information visit www.westmontofcypress.com.